Ashtech Fire Safety's fire training course is designed for the general workforce to instruct personnel in the correct use of fire extinguishers and fire blankets.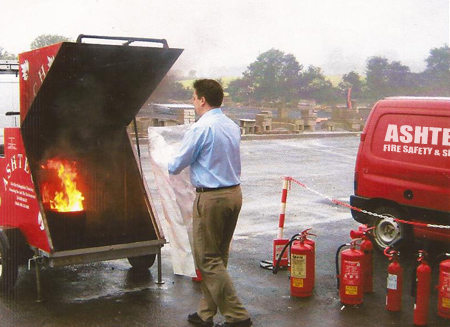 To ensure they have a comprehensive understanding of how to classify a fire and the principles of application of Fire Extinguishers and how to operate them.
Live Fire Training Induction Course
At the end of the course, trainees will be able to demonstrate their competence in the correct selection and use of Fire Extinguishers and a Fire Blanket on Live Fire using a training module simulating the 4 basic fires most likely to be found in the home or workplace.
Class A Fire: Paper, Wood & General Combustable Fires requiring cooling and quenching
Class B Fire: Flammable Liquid Fires
Class C Fire: Gas Fires
Live Electrical Fires
On completion of the course each delegate is presented with a signed certificate indicating they have demonstrated competent use and correct selection of the Fire Fighting Equipment they used during the course.